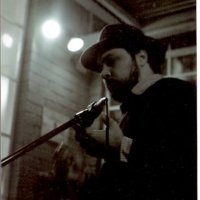 While studying composition and classical guitar performance (amongst other things) at the University of the Witwatersrand, Anthony began to indepedently approach and collaborate with film, theatre, animation and fine arts students on various projects. Many years before that, he was figuring out how to make music with a 48k Sinclair ZX Spectrum. Programming each note in SuperBasic, these were pieces for imaginary video games - his first foray into composing for narrative.
He has since composed & produced music and sound design for film, theatre, commercials, corporate events and over 300 episodes of television drama. At times very straightforward, and at other times highly experimental, Anthony's work is project-oriented and takes influence from his broad scope of interests. Whether writing a simple piano piece for a poignant scene, creating a massive-sounding score for an action sequence, or producing a live electronic sound bed for a theatrical adaptation of The Third Man, the focus remains the same: telling the story.
Anthony composes & produces from a studio in Johannesburg, South Africa, using a combination of various instruments, methods and technologies. He has also worked as an educator, spending some time teaching classical guitar technique, music theory and music production.